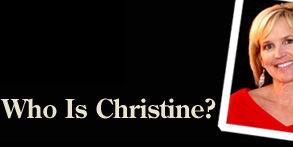 Christine DiGiacomo is the executive director of PastorWoman Corp., a ministry whose sole purpose is to spread the love and Word of God locally, and around the world via the internet. Passionate about living the adventure of the Christian life to the fullest, she encourages others to do the same through Bible teaching, and powerful community outreach. Please click here for more about Christine...

To purchase Christine's new book click here...



Christine's real-life Bible teaching is available via Email or Podcast, and you may join the "Morning Briefings" Group on Facebook!

Check out these briefings:
• What in the World is Going On?!

•• Trusting God Every Day

• No Regrets

• Why You Should Read This.

•• Love ~ What It's All About.

•• Contentment and Poetry. You can be content.



You're invited to Women of Passion
in San Clemente!
Women of Passion, now in its 19th year, meets at Cornerstone Church, 708 Ave. de la Estrella, 92672. Women of various life experiences and faith backgrounds come from all over the area to join together weekly to study the Bible, think, pray, grow, serve and enjoy one another. It is an authentic friendly community where you can be yourself and find yourself in God's eyes. He joins with us each week to bring about great things in our women! Thursdays, 9.15-11.30, $50. Loving childcare available. For more information or to register, contact Lisa, LDWELD@cox.net.

Here's What's New . . . Peacemaking and Mediation.

Doesn't it seem like there are so many people in conflict? In the last year, I have taken three levels of training to become a mediator, or as I think of it 'peacemaker'. Trained at Harvard Law School for Dispute Resolution, at Northwestern University in Chicago for Mediation Skills Training and at Northern California Mediation Center for Family Law and Divorce mediation. Member of Southern California Mediation Association.

Combining what I know to be true of God's heart for people to live in peace, my experiences with folks across a broad bandwidth—from working with youth, couples and families, and executives in the corporate world—makes me well-suited for this discipline. Now with the many hours of professional training, along with mediations I have conducted and my heart for people and their relationships, I have found that Mediation and Peacemaking is directly in my wheelhouse.

My fair and reasonable rates are available by request at mchristinedig@gmail.com. I'd be honored to help you resolve your situation.